Loving God. Loving People. Making Disciples.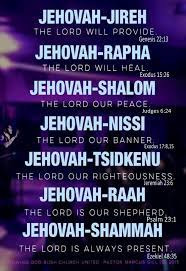 Every name of God highlights one aspect of His character. There is only one God, but the biblical writers referred to this one God with many different monikers. One of these names is Elohim. Elohim is one of the most frequently used names for God in the Scriptures. It is this word which is used in Genesis 1:1, "In the beginning [Elohim] created the heavens and the earth." In fact, the word appears some 2,750 times in the Old Testament.
Wednesday night Bible Study will discuss the Names of God for the next several weeks. Join us at 7:00 PM at Charlotte New Hope Church. Class led by Pastor Victor Williams.